Felix Chong, a Hong Kong filmmaker, scriptwriter, and an actor, has been interested in cinema ever since he was a child. The filmmaker found his passion for storytelling when he co-wrote Afraid of Nothing the Jobless King with Joe Ma. With over 20 films under his belt, Felix Chong has been primarily recognised for scripting the Infernal Affairs trilogy as well as directing and writing the Overheard and Overheard 2 along with Alan Mak. Chong's latest work, Project Gutenberg, which is his second solo directing project, is a daring roller coaster of a story that is a little over two hours long.
Photo © MM2 Entertainment 
After being extradited from a Thai prison, a failed painter Lee Man (Aaron Kwok) is sent back to Hong Kong – only to be arrested immediately upon his return by the local inspector Ho Wai-tam (Catherine Chau) and questioned about the recent crimes in Hong Kong that involved fake money. The police are aware that a man, known only by the name of Painter (Chow Yun-fat), is behind it all. In order to get to him, they need a whistle-blower, a man who used to work for the 'big shark', and their only option is Lee Man. The man at first strongly refuses to be a snitch as he fears for his life, but everything changes upon arrival of the mysterious Yuen Man (Zhang Jingchu), Lee's former lover.
At this stage, the narrative takes us back into the past, to a time when Lee and Yuen lived together in Canada and worked as emerging painters that barely made ends meet. Lee struggled to sell his work and slowly started to copy the works of other great painters; he became a pitiful, yet talented fraudster. Lee caught Painter's attention with his fake 'artistic masterpieces' and left Canada to join a daring scheme; he was recruited to help create a counterfeit 100 US dollar bill, identical to the real money…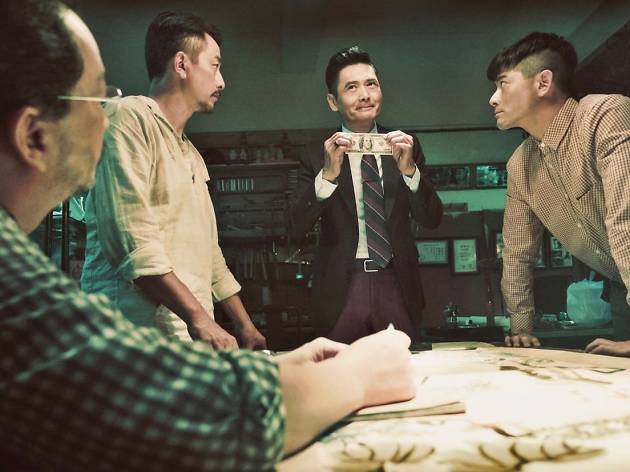 Photo © MM2 Entertainment 
Chong both wrote and directed Project Gutenberg. His attention to detail makes it obvious that he took his time to do the research on the workings of fraudsters and the amount of effort involved in such crimes, but unfortunately, the film's subject matter lacks in originality.
With Jason Kwan's incredible cinematography, the close-ups that concentrate on the process of making the hundred-dollar note make for an impressive, but probably undesired 'tutorial' that any Treasury would want to make disappear. The first part of the film is slightly tedious with its slow pace; the real action starts rolling in the second half, when the game of cat and mouse begins. The explosive duo of leading men – Chow and Kwok – set out to entertain the audience with their strong performances. Chow is charming, yet deadly and temperamental, while Kwok is determined, yet whiny; also, Zhang impresses in her smaller, but no less relevant role of Yuen.
Photo © MM2 Entertainment 
Project Gutenberg loses its value with its predictability and the often confusing, hard-to-follow flashbacks. Strong camera work and solid central performances aside, the film is merely average. If only Felix Chong paid more attention to editing and somewhat shortened the film, it might have given Project Gutenberg a fair chance at becoming an exciting production.
Rating:
Written by Maggie Gogler
Edited by Sanja Struna